Gartner's Hype Cycle for Emerging Technologies anticipated 5 key digital trends to watch in 2021 and beyond. Based on these trends by Gartner, the recent acquisitions and, of course, all the changes COVID19 brought to our lives last year – from a growing concern about sanitation to more awareness about public health and a mass adoption of remote work – I reflected and came up with my own bets for the year.
Gartner's 5 key trends
Gartner is one of the key references when analyzing technology trends. Together with their Hype Cycle, they published a list of 5 key trends for 2021:
1/ Composite architectures
Flexible structures that are able to adapt to a changing world have proven to be more resilient during this crisis. During 2020 offices were closed and more organizations realized things like software as a service and cloud computing could be of great help to improve the flexibility of their cost structures. Agile methodologies, continuous improvement and change management, around for a few years, also grew in adoption in 2021.
2/ Algorithmic trust
As a society, we need to adapt our values and regulations to an algorithm driven world. On top of this, topics like provenance tracking and identity verification are key to ensure the algorithmic trust is matched with trust mechanisms for the physical world.
3/ Beyond silicon
New materials used to build computer and other electronics are enabling a new age in computing. This may seem far from our worlds, but they impact the performance of some services the service we use rely on. By proxy, improvements in this are impact our lives.
4/ Formative artificial intelligence (AI)
It includes a wide range of AI techniques that adapt to changes, and include some techniques like generative AI, composite AI, differential privacy, small data or self-supervising learning. These techniques can do things like create new content based on existing data, and has been used mostly in creative industries or health sciences so far.
5/ Digital me
Our digital interactions leave a trace of data and over the years we have created identities all around the web we have little control over. Besides, there are new technologies, such as brain computer interfaces, that are changing the way humans and technology interact and affect each other – and collecting data about it.
Gartner's Hype Cycle 2020
A lot of the topics we saw in previous Hype Cycles have disappeared in this year's edition. Something I found interesting, however, is the amount of technologies that have an expected plateau of productivity within 5 years. I believe with COVID19 we have realized technological change can happen much faster than we thought before: when given really good reasons, a large majority is willing to embrace new technologies and habits. Zoom and other videoconferencing tools, as well as e-health apps are great examples.
AI is one of the most repeated topics in Gartner's Hype Cycle for 2020. The applications named this year are a lot more realistic than the emerging technologies related to AI in previous years, which is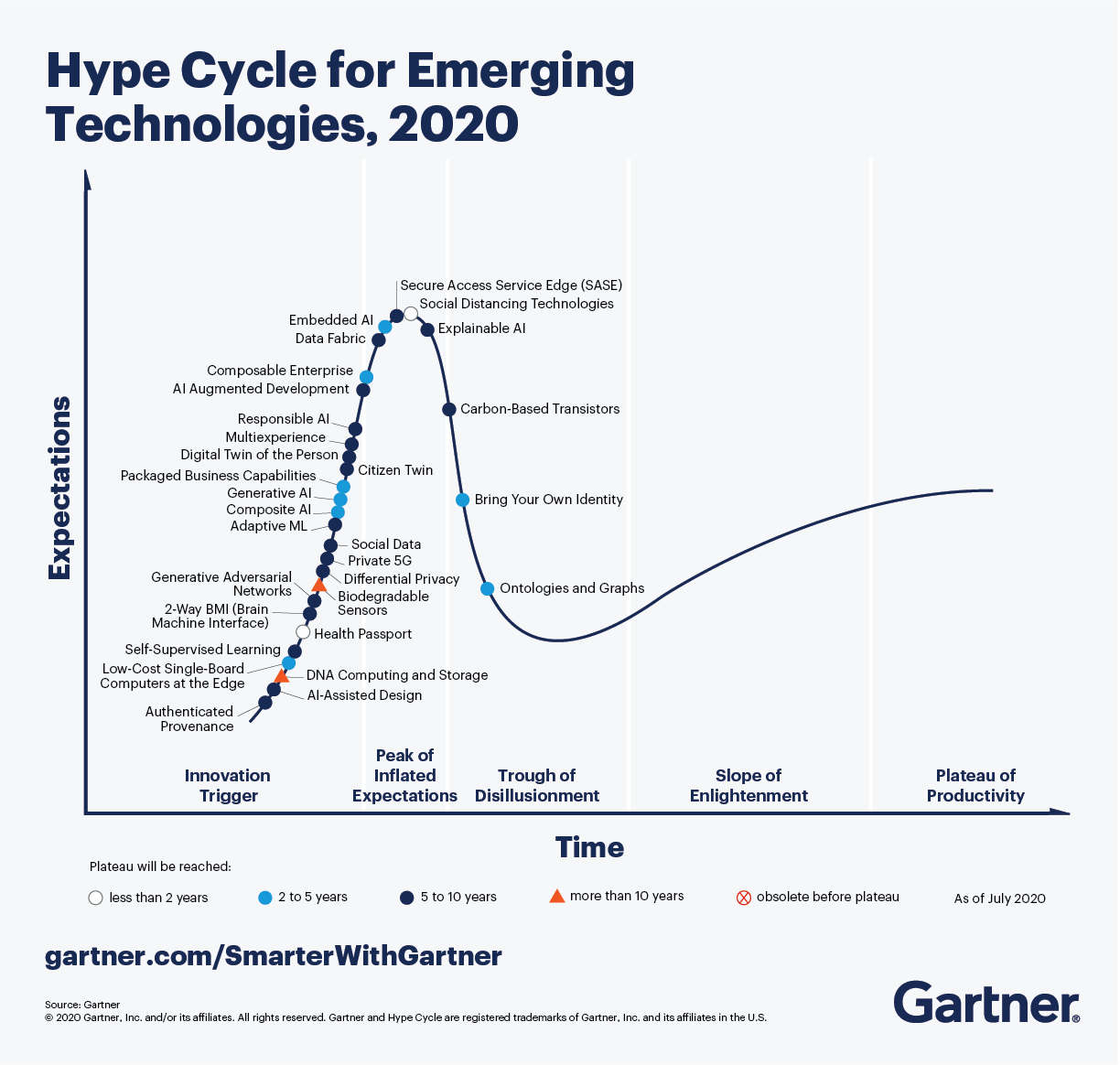 Digitial Predictions for 2021
Social VR
I predict 2021 will bring us the first social network over VR, and I believe it will be powered by stories and voice. I put my hopes on Facebook, but I don't dare to predict whether Facebook or Instagram (or a completely new brand, like Campfire) will pioneer this change. Social walls will finally become actual (well, VR) walls where we can display our standstill or animated stories.
Voice will be vital to help those not so used to gaming interfaces to use VR. Brain-machine interfaces are nowhere in this year's Hype Cycle, but Facebook already announced work in this technology and I think we may see some of it arrive to consumer tech later in 2021.
As more and more of our interactions happen in smartphones, wearables, voice interfaces and virtual realities, I predict the right click as we know it will start to disappear. Small changes, like the addition of edit and commenting features to the side of google docs, making it easier to activate from touch, makes me think that this is where interaction is heading.
Messaging Migrants
We know some things about what will happen with messaging in 2021 already
Facebook already announced WhatsApp will start featuring Ads
They will integrate this popular messaging platform with Messenger and Instagram DMs.
Messaging is about to change a lot and the channels we use for each kind of conversation will likely change a lot next year. Did you find yourself using Instagram DMs more? Would you say you used WhatsApp more or less during the holidays? How did your video/voice/text ratios change this last year? I shared a lot of ideas about the changes we will see in messaging in the future already, so I encourage you to continue reading there if you find this topic interesting.
Smart and trusted? recommendations
Companies like Google, Amazon or Facebook have huge amounts of user data they have been using to drive our use of their apps and I think it is time for the power of data and predictions to be more visible to users too. We will see things like color recommendation in design software or recommendations for actions in Google Analytics.
In 2020 we already saw how network data can be used to fight the spread of disease, and apps and dashboards agains COVID took advantage of device data and position to inform public health strategies. With 5G more devices can connect and exchange data. As more powerful computers and models start to make sense of this data, what we started calling Internet of Things will become the Internet of Behavior.
As we become more concerned with security and privacy and new threats like AI generated fake news and deep fakes that can rapidly expand online, these topics become more mainstream. In 2021 there will be ads about cybersecurity in TV and more laws that regulate technology and algorithms.
Digital & remote first
Zoom more than tripling their results and Salesforce acquiring Slack confirm that remote is here to stay. While some things will return to normal once we've improved our means to fight COVID, some other things will never be the same. Our relationships (personal and professionals) are starting to be digital and remote first. A lot of consumers tried working remotely, ordering things online and having meetings of all sorts without leaving the home. 2020 has proven that digital and remote is here to stay, and this will have a huge impact. Work will continue to change, but I also predict a boom in e-commerce and digital experiences and tools.
Gig-economy for a more flexible last-mile, Digital Identity and Online Finances (a sector where we have to count with traditional banks and the cryptocurrency and FinTech initiatives) are some of the first signals we will perceive of changes related to this growth in digital experiences, but the changes in our society will be huge and go far beyond these and into our social habits and family and community models.
As more people see an opportunity in the digital world and more money flows towards digital initiatives, more people will want to be part of this. I predict we will read good news about online learning initiatives, low code tools like Adalo, Landbot or Airtable that put digital creativity in the hands of more people, and we will start seeing a similar trend in hardware. Other technology trends, like infrastructure as code or even apps that can design written specs will with time help automate parts of the more technical parts of the creation and launch of digital products, democratizing creation. I hope a growing base of people who can create solutions using technology will cause a surge of new projects that resolve relevant problems.
Beyond 2021
Other candent topics in technology include self-driving vehicles, drones or robots for things like assistive living and elderly care, but I don't think we will see mass adoption for this kind of technologies during 2021. We will have to wait a little bit more for this. While these were present in previous years' Hyle Cycles, Gartner also agrees to leave these on the side in our radar for 2021.
Last, I can't finish this article without mentioning sustainability. We've seen food go green with bio products and more interest about proximity and seasonal products. The automotive industry is already making the shift to a world without petrol. Cosmetics are making this transition as well and I foresee beyond 2021 this mentality will change the market for higher income consumer specially. To make sustainability tangible and trustable and to make sure it has an impact beyond marketing messaging, organizations are already making a shift to carbon neutrality and provenance certification. Watch out next year and expect your world to be quite different in a few years.