In this post I share with you 12 deliverables that will make your freelance project look more professional.
What are project deliverables for freelance professionals?
It's common to think that project deliverables are the output of your work in a project, however, I think of project deliverables as the collection of documents, designs, reports or products I hand over to my clients through our collaboration in a project.
Why should I create deliverables in a freelance project?
If you already have to write documents or create artifacts in your process to accomplish the actual goal of the project, why add more deliverables to the list? Well, the deliverables I recommend you fall into two types:
they help ensure your relationship with your client is under control or
they help create a tangible value in relation to the intangible value you are providing your client.
If you work in the knowledge work industry a lot of your value comes from advice, recommendations, indications and the choices you make around tools or methods. These are all intangible and can be delivered through, for example, a phone conversation. Transforming this knowledge into tangible assets, especially if you can make it in a reusable way so that it can be used to add more value in the future, gives you bonus points as a freelancer or consultant.
12 project deliverables for freelance professionals
Professional Portfolio
One of the first things most of my potential clients ask to see is a portfolio of my previous work. If you are a UX or UI designer or a developer, or if you design brands or manage social media accounts, showing your results may be as easy as sharing a link to a couple of products in production. Having a pdf version of your portfolio can help you show your work in a more professional way.
If you go for this, try to add some narrative: images are worth a thousand words, but adding 50-200 words about each project won't hurt. As a project/product manager the interesting part of my work is not necessarily the app or process I manage, but the work that goes into the preparation, planning, monitoring or implementation of the project. Instead of sharing links to live apps, in my work page I share a bit about the background and challenges of my projects, and show a couple of documents clear of confidential information to give a feeling of what my work looks like. Make a portfolio that works with the kind of work you want to display!
Project Proposal
After a first contact and after checking your portfolio, customers may be ready to move on. You will need to make a proposal, and this can take different shapes. Some times, an email with a quote can be . Some other times, your client will need a document to pass it around for approval, or just to have a better feeling of what your documents look like. Yes, shopping through proposals is more common than you think!
Over the years I've tried different proposals looking at their length, the amount of details I provided and the formats I used. Right now, I send proposals as ppt presentations that are around 5 pages long and don't go much into details. You can learn more about project proposal templates in this post.
Project Contract
Back when I started working as a freelance I didn't consider contracts important. I worked with people I trusted and I never had any conflict, so I considered them paperwork that I could go without. Looking back I regret this so much, and signing contracts has become a fix task in my onboarding process with new customers. A contract sets expectations and makes the rules clear in case of conflict. Get professional help to write your own contracts and get your legal advisor to review all your new contracts. Be sure the hours you spend doing this are way less than the ones you'll spend trying to resolve a conflict without a contract!
Project Statement of Work
You may include a Statement of Work in your Contract, but it is not always the case. Whatever you do with your contract, make sure to have a clear statement of the work you will do and try your best to get a written confirmation of agreement. This can be as simple as some bullet points stating the goals of your collaboration, the objectives, and the key results and indicators you will use to evaluate the collaboration and the delivery of the work.
Project Brief
Once you have agreed on a scope, you will need to gain more clarity about how to do your work. This is often done with a project brief. This tool is common to designers, developers, marketing professionals and other consultants, and while the methods or the specific exercises or questions included in the brief may be different in different projects (and it is actually a good idea to adapt briefs for each client) the essence is common. Having a discovery session with your client and collecting all the insights and directions in a brief document can save you hours of discussion later on in the project, and will surely have outputs that are more aligned with the organization and their clients and hence produce better outcomes.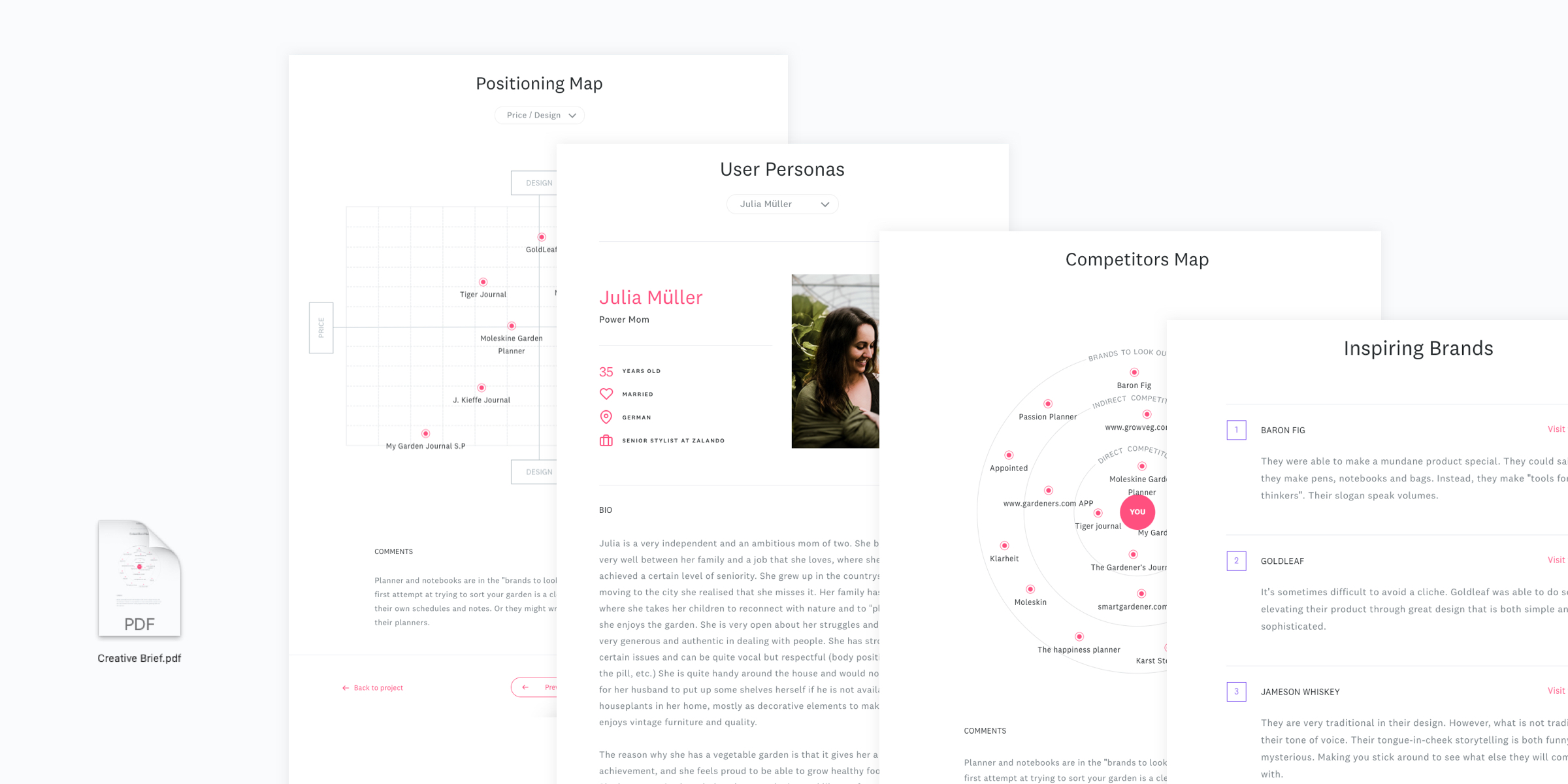 Use brief templates and adapt them to your needs.
Making briefs that look as good as these takes minutes with HolaBrief!
They also made a great Customer Onboarding Guide you can download here.
Project Plan
Put together a simple project plan you can share with your customers early on. It will help set the expectations and it will give you a document to refer to for any questions about what's coming next. This project plan may materialize in a roadmap or a more refined product backlog later on, but you can keep it super simple at the beginning. I use bullet points and simple timelines made with Google Slides and put this information together in a document based on the initial proposal and the brief, so that my customers can see my work is a refinement of the initial ideas I shared with them and they always have one document to look at that includes relevant historical information.
Periodic Project Reports
It is a good idea to share updates through the project lifetime. You can easily do this with a simple one pager that lists the goals and objectives and gives a health status using something as simple as a traffic light indicator. If you use any tools that include dashboards, you can simply take screenshots. Otherwise, I find Google Sheets is a great tool to design and print any kind of reports.
Project memory
As a wrap up for your work with them, hand over a project memory to your clients. Summarize the project purpose, goals, KPIs and achievements, the activities and the impact, and close with whatever recommendations you have for the next phases of the project. Make sure your document has anything someone new to the project would need to understand what need you tackled and what impact your work had. It is a good idea to include your contact details too. Think of this memory as an opportunity to sell your next project too: the end of a project is many times the beginning of another one (or two).
Final Project Report
At the end of the project your client will love to have a final report where the final and historical results are presented. If you created regular reports through the project this task will not take you too long, and you may even be able to reuse your templates (I prepare mines so that I can do this, pro tip!). Make sure you add any relevant information about goals and KPIs from your project proposal. One last bit of advice is to think that some users will consume this on their mobile phones. Yes, I know. I know. But make a little extra effort to make your report mobile friendly: numbers should be big enough, links must work on mobile, and if you make your reports shareable and consumable from IMs like Slack or WhatsApp you may earn a couple of karma points.
Deliverables Index
Make it easy for your clients to go through everything you share with them with a deliverables index: have one place where every other information can be easily accessed. This can be a repository, an online site, a spreadsheet with links, a confluence page, a text document or a presentation… pick the best option depending on your service and tools, and make sure you focus on the benefit for your client: One place to find them all!
Licenses
If you've been in the business for a while I believe you will agree with me that licenses are a good thing to invest a little time and money in. Make sure you have a license for any assets you use in your work and that you hand over your client a license for your work. I can't stress this enough: please make sure you and your client speak about this early on in the project to avoid misunderstandings, and protect your work with a license. Find a good lawyer with experience working with other professionals in your field, as license templates that you can easily find online may not cover your needs. I insist: this is important, so invest in getting it right at the beginning and save time and money in litigation afterwards.
Satisfaction Survey
If you are proud of the work you did together with your client and you think they are too, it is a good idea to ask for feedback and a testimonial. If you had high and lows through the project or have the feeling the collaboration was not as great, sending a satisfaction survey or asking about satisfaction in your last email opens the door to feedback that can be vital in learning from this experience to make your next project a better experience for both you and your next customer.
Ready to make your own freelance project deliverables?
Using these and other deliverables will help you collaborate with your clients in a more structured way and make your value tangible. Something as simple as offering a document to review when in doubt will help your build trust. Spend a little time every time you create a deliverable to make it reusable in other projects and build a set of professional looking documents with time. There are a lot of tools out there that can help you in this task. I will be sharing more on this soon, so make sure to subscribe or follow me in social channels to make sure you don't miss it. Thanks!
Join my newsletter
Processing…
Success! You're on the list.
Whoops! There was an error and we couldn't process your subscription. Please reload the page and try again.